Be-Tech Joined the Vancouver Connect Show 2015
Be-Tech Joined the Vancouver Connect Show 2015
Be-Tech just participated in the Vancouver Connect Show 2015 in Canada. Held between 18 and 19 Oct. at Vancouver Convention Centre West.
CONNECT Show will bring together thousands of owners and operators of restaurants, hotels, pubs, bars and more from across BC.
For more exhibition information, please pay close attention to us!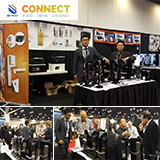 Be-Tech Joined Canton Fair 2015
Be-Tech latest fingerprint digital door lock - i3FMK is now launched.